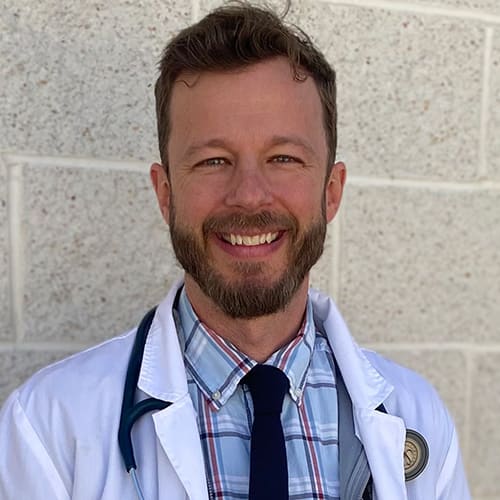 Dr. Joshua Powell, DVM, BS
Upon graduation from high school, Dr. Powell took a circuitous route to become the astute veterinary clinician that he is today. After speaking to a Navy recruiter (rather than filling in college applications) he found himself on the bus to the Nuclear Power Program. His training began in Orlando, Florida, and was completed in Saratoga Springs, New York.

He was then assigned to the USS Charlotte stationed at Pearl Harbor. Lucky for him, he lived in warm and sunny downtown Waikiki, Hawaii. He has his certification as a nuclear electrician as well as a certification in high radiation. He also holds an accomplishment as a scuba diver for the Navy certified at the highest level!

Upon completing his tour of military duty, he returned to his home state of South Carolina where he matriculated at Clemson University. He holds a Bachelor of Science degree in Animal and Veterinary Science.

Not long after, he pulled up his Southern roots and made his way to the American West. He applied for a coveted scholarship from the United States Army Veterinary Corps and received one out of only thirty nationwide! He then graduated from Colorado State University College of Veterinary Medicine in 2014.

Moving farther west to Tacoma, Washington, Dr. Powell spent three years caring for the Army's highly trained elite working dogs as well as soldiers' personal companion pets. Dr. Powell wrapped up his military service and worked in private practice just outside of Seattle, which is also where he met his wife Emily, a primary school teacher for the deaf. Together they like to ski and snowboard the very high and very steep mountains of the western half of America.

Never one to turn down a challenge, Dr. Powell and his wife camped their way across the entire United States on their way to a veterinary hospital in Asheville, North Carolina.
In November 2021 Dr. Powell moved to PA to join our Spring House Animal Hospital team as our Medical Director!